NYC COMMERCIAL WASTE
ZONING INFORMATION
Action Environmental has been successfully serving businesses in New York City for over 20 years and built a reputation as one of the city's premier haulers.
New York City's Commercial
Waste Zoning Law
Local Law 199, adopted on November 20, 2019, mandates the creation of twenty commercial waste zones across New York City, and authorizes up to three waste and recycling carters to operate in each zone. Zones will be assigned to eligible haulers by the Department of Sanitation, and subsequently New York City commercial establishments will be required to contract with one of the waste and recycling providers in their zone.
What the New Zoning Law
Means for Customers
For our customers, we anticipate minimal change under the new zoning program. You can expect the same seamless and efficient service. We remain committed to serving the people and businesses of New York City and are excited to be a part of a more sustainable approach to waste and recycling collection and processing while promoting long-term zero waste initiatives in our city.
New Customers
For new customers, we look forward to serving you!  If you have any questions, please contact us or call 1-866-DIAL-IWS. We have zoning experts on staff to help answer any zoning related question or help facilitate the transition from your previous hauler.
New York City's Commercial Waste Zoning Explained
In New York City, over 200 licensed private waste and recycling carters serve more than 100,000 commercial establishments including restaurants, retailers, entertainment venues, manufacturers, hospitals, hotels, and other businesses. Local Law 199 and commercial zoning intends to reform the private carting industry and address environmental, safety and customer service interests by limiting the number of carters operating in New York City.  The law, adopted in November 2019, sanctions the creation of twenty commercial waste zones across New York City, and authorizes up to three waste and recycling carters to operate in each zone.
Private carters who wish to operate in New York City must submit to a rigorous proposal process overseen by the Department of Sanitation and prove their commitment to sustainable operations, safety and customer service in their desired zones. Once proposals are reviewed and zones are awarded to carters, all commercial establishments operating in New York City will need to contract with one of the three assigned carters in their zone for waste and recycling services.
We are excited to be a part of a select group of haulers operating in NYC and look forward to contributing NYC's innovative program goals!
We're Taking Action on NYC's CWZ Program Goals
Learn how Action & IWS are actively working towards these goals within our organization.
Zero Waste
Reduce commercial waste disposal and incentivize recycling.
IWS & Action own and operate 3 state-of-the-art recycling facilities.
Offer recycling facility tours and participate in community educational events.
Provide training sessions to promote and encourage recycling for our customers.
One of the first to offer organics recycling in NYC; processing organics for over 15 years.
Continue to invest in recycling facility technology; we are expanding recycling operations with the construction of a new-state-of-art single stream MRF as well as a new organics recycling facility.
Our waste-to-energy conversion technology, converts natural bio-gas to clean, renewable energy for the grid.
Environmental Health
Reduce truck traffic throughout the city to reduce air pollution and improve quality of life.
IWS & Action leverage advanced vehicle technology for route efficiency.
Utilize our waste-by-rail network, removing approximately 20 million truck miles and eliminating 3.2 billion grams of GHG emissions every year.
We are the only commercial hauler utilizing its own waste-by-rail network in the NYC market.
Infrastructure and Waste Management
Prioritize investments in clean, modern fleets and facilities that make up a reliable, resilient, and sustainable waste management system.
Our network of 22 transfer, recycling, and sustainable disposal facilities are ideally located to serve the NYC market in an efficient and sustainable manner (reducing vehicle miles traveled).
We are the only vertically integrated operator in the 5 boroughs with a specialized fleet and facilities to collect all waste and recycling streams, including organics.
First to create a private, fully automated commercial waste materials recycling facility in NYC.
Fleet of over 400 collection vehicles, all outfitted with onboard camera technology, onboard computing and telematics, and a route optimization system.
Customer Service
Strengthen customer service standards and establish accountability.
Through technology, process, and people, we invest in the tools necessary to provide an exceptional customer experience.
Our Net Promoter Score (NPS) survey proactively solicits customer feedback for continuous improvement and accountability.
We can accommodate diverse language needs of customers, including Spanish and Chinese.
24/7 emergency support, non-emergency requests receive response within 24 hours.
Experienced and flexible, we can support unique customer service requirements or site challenges.
Health and Safety
Improve training and safety standards to make the industry safer for workers and the public.
Through training, technology, incentives and consistent oversight, Action has invested heavily in promoting safety and compliance throughout the organization.
Learn more about our culture of safety, visit our Safety page.
Fleet of vehicles outfitted with onboard camera technology, which provides continuous recording, live streaming, and in-cab/side/reverse viewing.
The health and safety of our essential workers is priority, our program addresses the entire employee cycle with a focus on continuous training, coaching and positive reinforcement.
Labor and Worker Rights
Improve industry labor standards and uphold worker rights.
We employ over 1,400 union and non-union employees.
We strive to create a great workplace; visit our Core Values and Careers page to see how we cultivate a culture of trust, respect and inclusivity.
We are essential workers delivering essential services to our community, a safe, stable work environment is the core of our workplace culture.
Pricing
Provide fair, transparent pricing with low prices for businesses.
Simple, transparent, no hidden fees – this has always been our approach to pricing.
We believe that customer loyalty is earned through transparency, fair value, dependable service, and relentless customer support.
Robust, Competitive Industry
Create a system that works for carters of all sizes.
Our collection footprint spans all five boroughs serving nearly 20,000 customers.
Our network of transfer and recycling operations supports many haulers throughout the five boroughs and the NYC zero waste and recycling objectives.
Need to find your zone?
Enter your address to see which zone you are in
Learn more about our services
Overview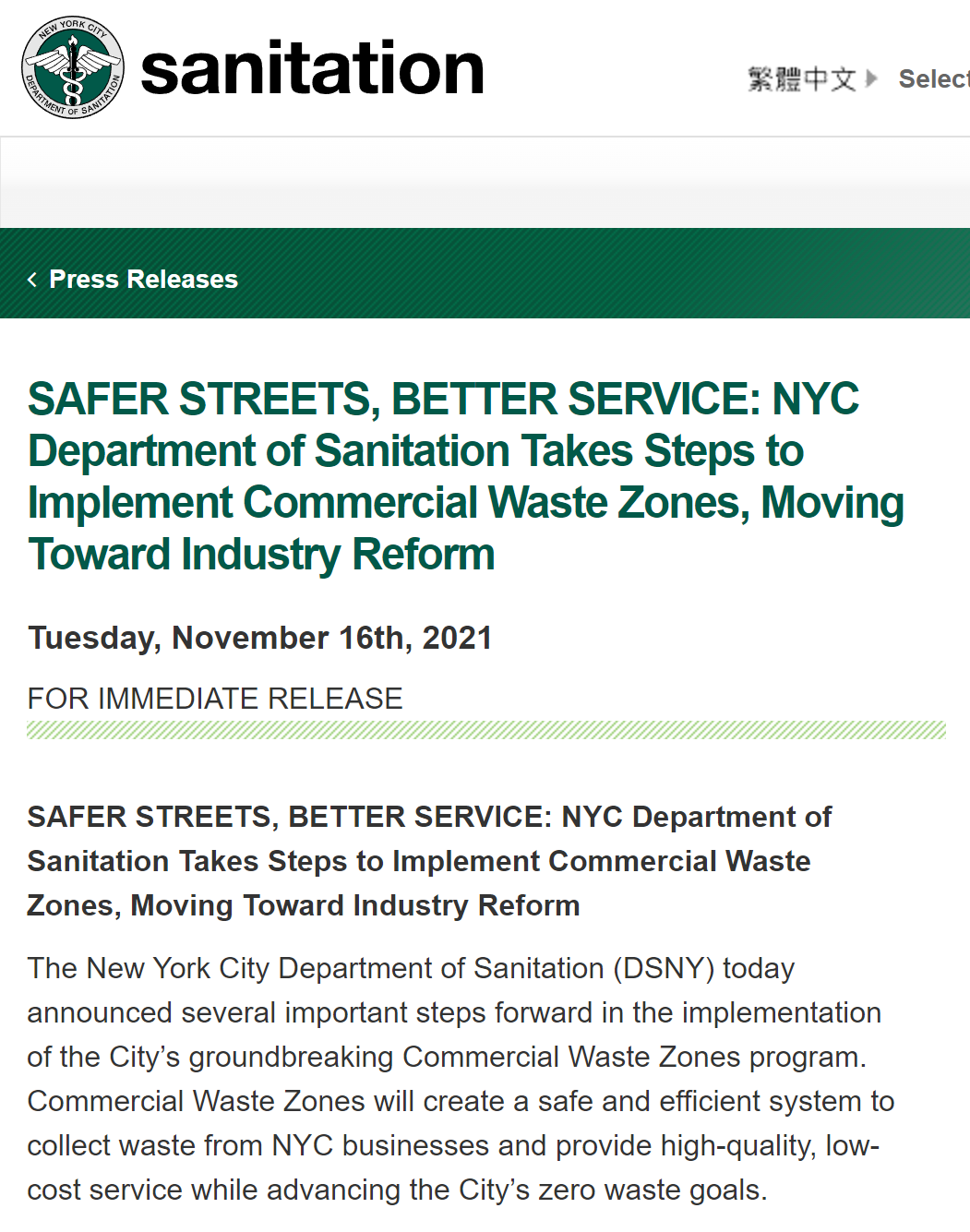 Safer Streets, Better Service
Industry Reform News
DSNY Commercial Waste 
Zoning Plan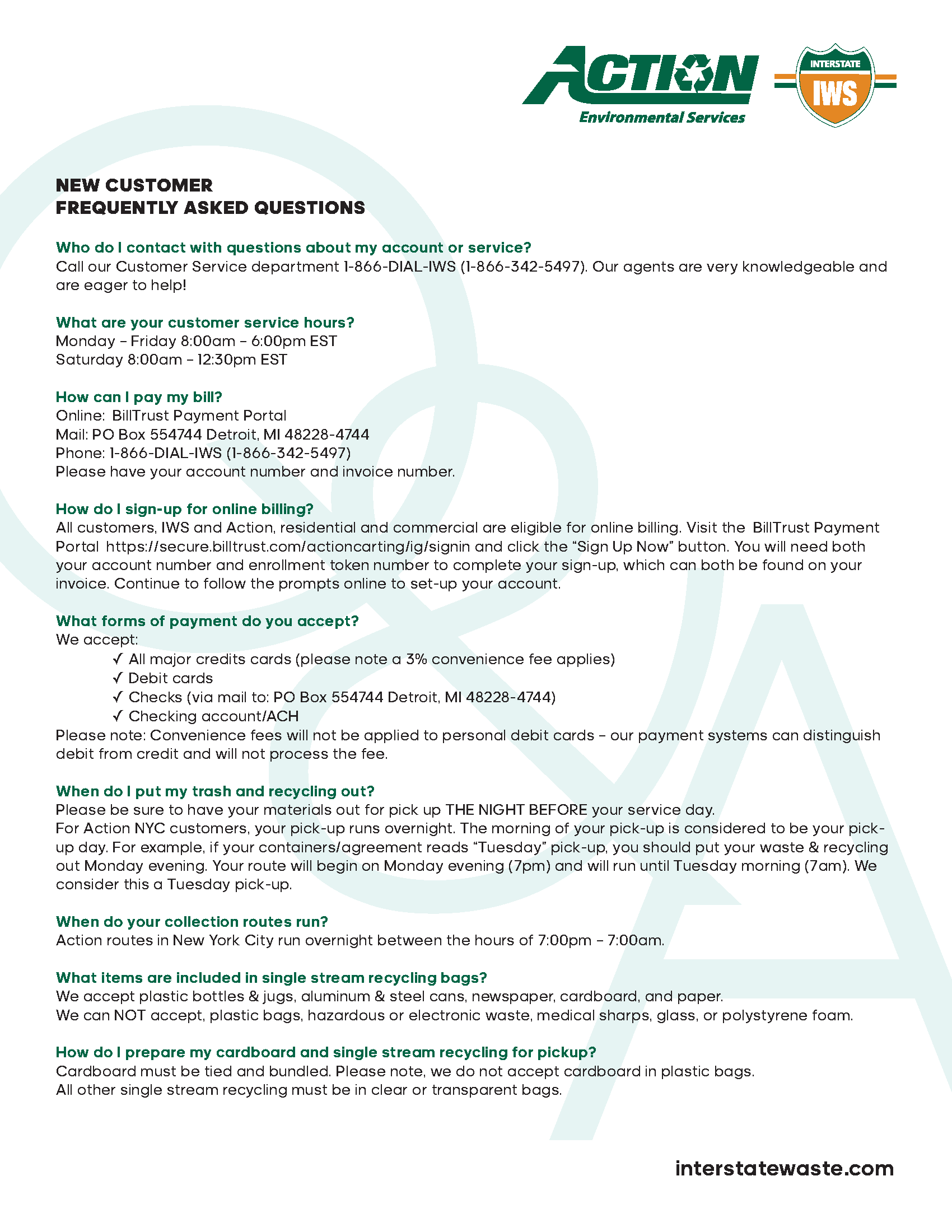 Are you a new customer?
New Customer FAQs
NYC Recycling Code
Recycling Compliance
NYC & NYS Restricted Materials
Materials Compliance
Containers & Compactors
Container Sizes & Specs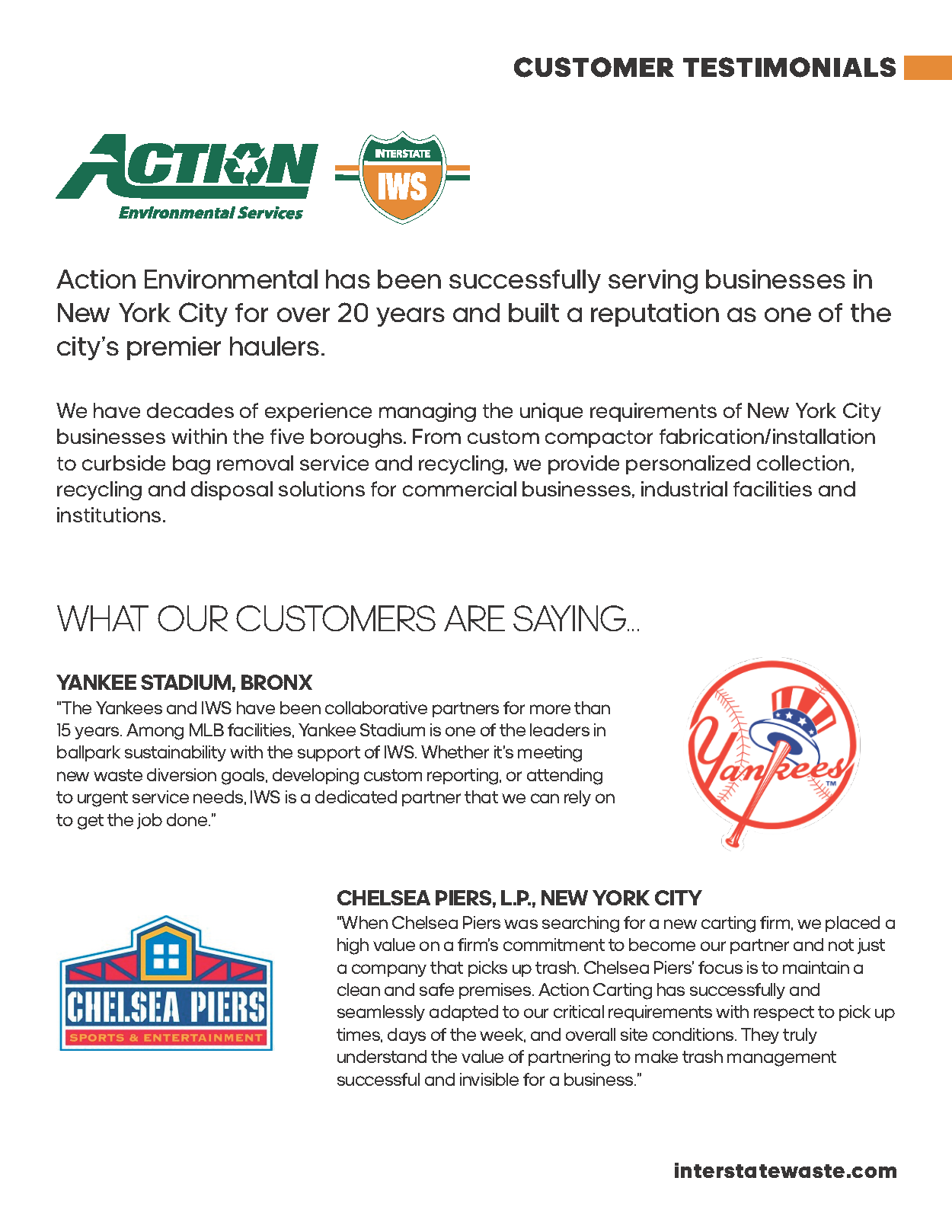 Hear from our customers
Customer Testimonials