SUSTAINABILITY
Greener Transport
Waste by Rail
IWS is one of the largest transporters of waste by rail. By utilizing a waste by rail system we significantly reduce the dependence on long haul transportation and the number of trucks hauling waste on our roads.
TRAINS ARE 4X MORE EFFICIENT
While considering the average gas mileage and payload of a heavy-duty tractor trailer, trains are approximately 4x times more efficient at hauling freight.
REDUCE GREENHOUSE GAS EMISSIONS BY 75%
Transporting freight by rail is 4x more efficient. That means transferring freight from truck to rail could reduce greenhouse gas emissions by trucks by 75% according to the Federal Railroad Administration.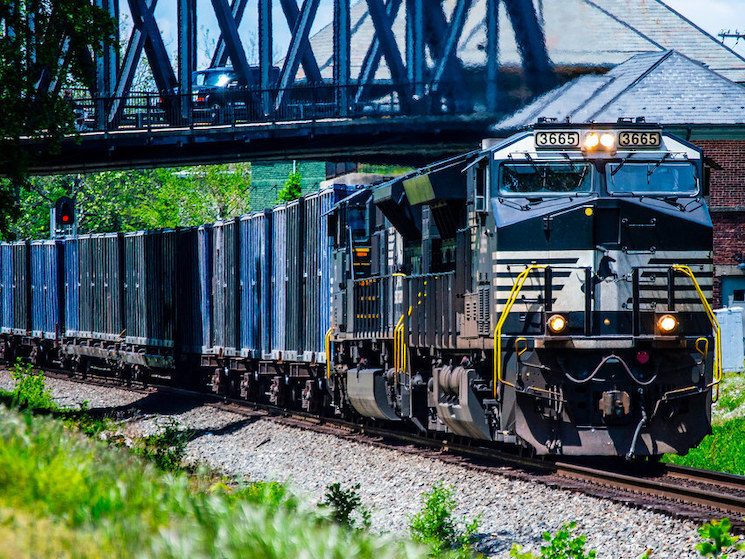 ONE TRAIN EQUALS 320 TRUCKS
Trains are capable of hauling large loads. Trains can handle high volumes of freight. A single train can carry the load of 320 trucks.
Automated Fleet
Technology is key to ensuring vehicle and route efficiency, helping to reduce fuel consumption and emissions. Our trucks are equipped with video, telematics, analytics, safety and productivity technology that monitors critical vehicle systems for operational efficiency and safety.
In-vehicle technology and fleet management software uses GPS, cameras and customer information to ensure efficient routes while also helping to monitor driver safety.
All newer model trucks are Certified Clean Idle, a system installed into engines that automatically shuts down the engine after five minutes of continuous idling to reduce emissions.