From Waste Today Magazine
By Adam Redling
Michael DiBella's longstanding relationships have helped to build Interstate Waste into the largest privately held solid waste hauler in the New York City, northern New Jersey market.
You don't become the largest privately held, vertically integrated provider of solid waste services in the New York City and northern New Jersey markets by accident.
For Michael DiBella, the founding of Interstate Waste in 1999 was three generations in the making.
DiBella's grandfather, Frank, formed Frank DiBella Sanitation Inc. in 1947 to serve northern New Jersey and New York state. Michael DiBella's father, Philip, and uncle, Steve, took over the one-truck operation in the 1960s and developed it into a 100-truck company doing $50 million a year in business when it was sold to Waste Management in 1998.
By the time the family business was sold, Michael had already leveraged years of experience growing up in the industry to establish his own footprint in the space.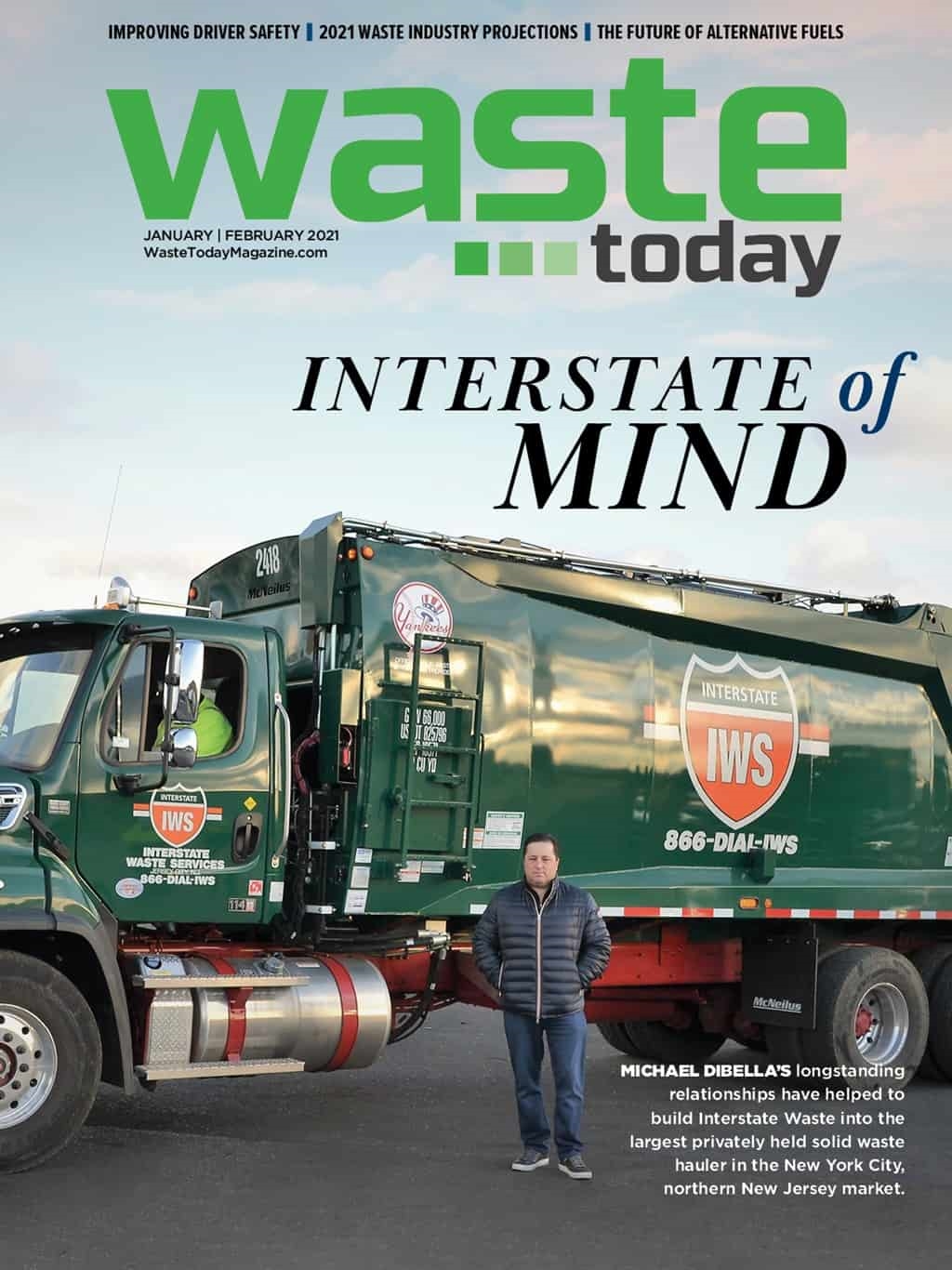 Michael started driving trucks for DiBella Sanitation after graduating high school in 1985. After working as a driver for several years, he advanced in various positions from sales to operations. At the time the business was sold, DiBella was working as the company's general manager.
Along the way, Michael ventured out to Albany, New York, to start his own commercial and industrial waste business, Environmental Waste Industries Inc., in 1991. Michael kept his roles at both companies until both entities were sold to Waste Management in 1998.
After both businesses were sold, Michael founded Interstate Waste and started operating in Rockland County, New York. At the time, he says it was approximately a $2 to $3 million business.
According to DiBella, the decision to form Interstate was born out of the realization that there might be an opening for a private waste company with familiarity with the community in the region.
"By the time my dad sold the business in '98 to Waste Management, new entrants, mainly publicly traded waste companies were busy buying up the industry in New Jersey in particular," he says. "And I felt there was going to be an opportunity to start back up in the business and be competitive with the public companies in our marketplace. They took a big chunk of the private sector out and now it was dominated by public companies, and I thought I would have a good opportunity to build a business there."
He says that the company's boots on the ground, organic approach to building business and servicing customers helped propel Interstate's rapid growth in those early years.
"We just organically grew from going out, chasing the business, working on sales, going and seeing customers— residential commercial and industrial businesses—we were going after it all," he says.
Within two years, DiBella's aggressive approach helped develop the company into a $25 million player in the region.
With its footprint established, DiBella wanted to begin pursuing smaller acquisitions as a way to accelerate Interstate's growth. However, without the capital to make the moves he wanted to make, DiBella made the strategic decision to partner with Summer Street Capital and Ironwood Capital.
Interstate's first private equity deal involved buying a small divestiture from Waste Management in its marketplace after the company was forced to sell off assets from an Allied Waste deal. The result was approximately $9 million in collection business and two transfer stations coming into the Interstate fold.
"We had the opportunity to take on Waste Management's assets, and we were successful in integrating the operations," he says. "It really catapulted Interstate Waste and made the company a real player in the market. Up to that point, we were a collection-only business, which is extremely challenging, especially in our marketplace where there are no landfills. Having transfer station capacity is essential in the northern New Jersey market. After acquiring the Waste Management transfer assets, we went on a real run, acquiring mom-and-pop-type businesses that were really very similar in operations to the business my father built."
DiBella says armed with the capital backing of Summer Street and other private equity investors, his familiarity and established relationships with the people working in the industry helped grease the skids in terms of pursuing acquisitions of local companies.
"Being around my father's business growing up, I got to know the industry players pretty well through those day-to-day business dealings. So, when walking in the door of a competitor to pitch the idea of buying their family business, it wasn't coming from a stranger. And I think that contributed to our success of acquiring a bunch of companies," he says.
After completing a string of deals and building Interstate into a $150 million company, DiBella sold the company to Highstar Waste Holdings in 2006, which later became part of Advanced Disposal.
A NEW CHAPTER
DiBella says instead of continuing to work for Interstate after selling to Highstar, he purchased a controlling interest in Action Carting's New York City operations in partnership with Ironwood in 2006, and shortly thereafter, acquired the New York City collection assets from Waste Management, who was looking to exit collection operations in NYC.
"Action was a $25 million a year business at that point, and we bought about $40 million of collection business from Waste Management," DiBella explains. "So, it really grew the company quickly. We ended up doing the same thing we did in New Jersey prior, which is work to acquire mom-and-pop businesses throughout the city."
In 2010, in collaboration with Summer Street, Action Carting and DiBella purchased the New York City transfer and collection assets of Republic Services, further building the Action footprint in the five boroughs. As DiBella was busy growing Action Carting, he got word that Highstar Waste Holdings may be interested in divesting Interstate Waste after struggling to gain footing in the region. In 2013, he bought back the company he started a decade and a half earlier.
"Summer Street Capital and its Managing Partner Brian D'Amico have been supporting the growth of Interstate Waste since their original investment in 2003," DiBella says. "They financed our growth through acquisition strategy [including with] Action Carting and the subsequent acquisitions of the New York City collection assets of Waste Management, the New York City transfer and collection assets of Republic Services, the buy-back of Interstate Waste in 2013 and many other tuck-in acquisitions over the last 17 years. Summer Street's industry knowledge and financial support aided our growth … and they have been great partners for many years now."
DiBella says after doing "a lot of rehab" to strengthen the company over the last several years, the opportunity to vertically integrate its services became a reality when it purchased Apex Environmental in 2020. The company partnered with Littlejohn & Co. to finance the acquisition. This deal yielded two rail-served transfer stations, one rail transloading yard and a rail-served landfill in Amsterdam, Ohio. Subsequently, DiBella integrated Action Environmental and Apex Environmental under the Interstate Waste Services brand.
"The Apex deal is just a game-changer for us because we are a sizeable collector in the five boroughs and northern New Jersey, but up until the Apex deal, we didn't control our own destiny in terms of disposal," he says. "We all viewed it as a key element to continuing to grow the business, and it was a necessity, quite frankly. We worked hard at getting the deal done, and now we're in the middle of integrating services, so it's been an exciting run over the last 20 years."
A CLOSER LOOK
Today, Interstate Waste has approximately 1,200 employees. The company boasts around 375 collection trucks and counts 20 transfer stations (including two with direct rail service), one rail transload facility, three material recycling facilities (MRFs) and one rail-served landfill as assets.
The company's collection customers weigh heavily towards commercial accounts (approximately 90 percent of its business), with the balance comprising residential and specialty industrial customers.
As Interstate's history suggests, the company's composition doesn't remain stagnant for long.
In January, Interstate acquired a 57-year-old family business, Bernardsville, New Jersey-based Rubinetti Disposal, which will help establish the company in the central New Jersey collection market, DiBella says.
Despite some of the obstacles of operating in the competitive New York City/New Jersey markets, DiBella says Interstate has embraced these difficulties as it plans for future development.
"New York City is a unique market for collection companies," he says. "Most of the activity takes place between 9 p.m. and 6 a.m. and consists primarily of loose bags on the street served by rear load collection trucks. Only the larger facilities are served through traditional containers such as roll-off compactors. Operating in a densely populated urban city at night with constant and heavy traffic presents unique challenges for service and safety. It's a constant focus for our team. We enjoy that challenge, and serving one of the greatest cities in the world is a real source of pride.
"Northern and central New Jersey are highly populated and growing markets where Interstate Waste is excited to continue to expand its market share—both commercial and residential. By having strong collection coverage, a network of transfer stations and MRFs, and the ability to move waste by rail, we feel Interstate is uniquely positioned to serve the growing New Jersey market."
While DiBella says the vision for the business is to focus on providing a full range of customer service solutions for commercial, residential and industrial customers, the company's high concentration of commercial accounts makes New York City's pending Commercial Waste Zone guidelines a central concern for the company.
The New York City Department of Sanitation (DSNY) originally released its Commercial Waste Zone plan in November 2018, citing safety, environmental and nuisance concerns as the impetus for reducing the number of waste service providers in the city. Under the plan, DSNY will divide the city into 20 zones, each served by only a few carters selected through a competitive process.
According to DiBella, though the plan is noble in its aim, the current plans for implementation could put undue stress on haulers and their customers, especially during the COVID pandemic and its aftermath.
"Interstate Waste is engaging with all stakeholders in an attempt to have a positive impact on the continued development of the rules. Given the impact of COVID on New York City, in particular, the timing of implementing such a disruptive change for commercial establishments is concerning. It may take 12 to 24 months for the region to recover, and adding new regulation and substantive change during this crisis and pending recovery is not ideal. We would certainly support an extended timeline for rulemaking, RFP and implementation. We remain hopeful that Commercial Waste Zones will ultimately have a positive impact on the collection industry in New York City, but much work needs to be done on improving the rules, the implementation timeline and overall transition plan."
DiBella says that ensuring greener waste collection in the region through reduced truck traffic is something that is a core focus of Interstate. Thanks to the company's new rail access, DiBella says they'll be able to significantly cut emissions for collection and disposal.
"Similar to the objectives of the Commercial Waste Zones initiative, moving waste by rail significantly reduces truck traffic and vehicle miles traveled. For example, a single train can handle the freight of approximately 280 long-haul trucks. We move a train each day of the week, saving approximately 2,000 truck movements, or 390,000 truck miles in a single week," he says. "With our rail infrastructure, Interstate is now able to provide curb collection to final disposal in an efficient, environmentally friendly manner. We have made significant investments in our rail infrastructure and we are excited for the impact it will have in the coming years."
In addition to being a conduit for integrating its operations and limiting its environmental output, DiBella says the company's rail infrastructure is anticipated to play a major role as the company looks to grow throughout the region via M&A.
"Without question, we plan to continue to grow the Interstate footprint throughout the Northeast and leverage our rail infrastructure," he says. "We have an active pipeline of target businesses with many providing a great strategic and cultural fit, especially in our core markets of New York and New Jersey."
While the company looks to grow beyond its New York City and northern New Jersey roots, it's the relationships and lessons learned through these partnerships that will guide the company as it builds on its past successes.
"Many managers and employees at our company have 20 to 30 years of experience working together in this business. Very few companies have that level of continuity from management to driver to mechanic," DiBella says. "Our employees have grown up together servicing customers in their own back yard. Maintaining that continuity long term, as we grow, is one of our key objectives."
The author is the editor of Waste Today and can be reached at aredling@gie.net.